My wife had an interesting experience yesterday. Here's her account of what happened:
I met up with an old lady who asked me to walk her to the gas station and back across the street. I was watching her cross and she just barely made it. Then when I crossed and met up with her she asked me to help her - so I walked with her to the gas station. She was telling me that she has a cataract and she wasn't able to fill out her forms to get her food stamps before Christmas - things like that, hard to get around, cold and icy, etc.

Then we went in and the guy was giving her a little bit of a hard time. I was thinking, does he know her or is he a jerk? I guess it was both. So he said, who's this, and she said that she found a girl to help her across the street, and he said I can't believe you're making her late for work, and I said it's not a problem, and he said, does she know why you're here, and she turned and said do you know why I'm here? and I said no, and he said, she doesn't know why you come here every day, and I said, I guess it's for something she needs, and she asked if she could give him pennies. He said no and made a fuss. She counted out quarters instead (he said that 100 pennies is not even a dollar - I thought that was funny).

Anyway, she got 2 boxes of cigarettes, 2 cans of coke and a can of 7-up, which I guess she needs – it was over $20.

So I was just thinking, what am I supposed to take from this? I still don't know.
Frances chose a record for me a few weeks ago –
Bruiseology
, the second and final album by the amazing new-wave band the Waitresses, from Akron, OH – and I've been listening to it a lot. I could write and write about the Waitresses, their leader Chris Butler, their original label Clone Records, and their spunky little scene of like-minded Akron bands out to mix rock and avant-garde musics and thereby change the world – but, I'm not going to because I don't need to right now. It's Christmastime here in the West and I'm thinking about what I need, vs. what I want. What I need to do with the Waitresses is listen to them.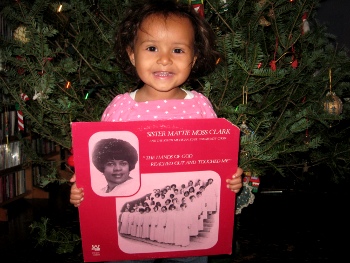 Logging lots of turntable time is not always what happens with the records Frances chooses for me. Some I listen to out of a sense of obligation, and some I can't bring myself to play. By some people's definition, these are records that I don't "need" – but if I think about selling a record like, say,
The Hands of God Reached Out and Touched Me
by Sister Mattie Moss Clark and the South Michigan State Community Choir, I come up against a million reasons to keep it on the shelf (between another Mattie Moss Clark record,
That's Christ
, and the awful self-titled early 70s album by Newton, MA's psych-folk trio Clearing). I'm a record collector, so there are things about these objects that appeal to me beyond their ostensible utility as preservers of sound. They feel like connections to people and times long gone, portraits of unavailable landscapes, maps of people's minds.
A record is just what the name implies – a document that records a piece of the past. The long-playing record album (LP for short – the handle "album" is a holdover from the early days of recorded sound, when 3-5 minutes was all you could fit on a record, and if you wanted to have, say, a whole opera in recorded form, you needed to store a bunch of fragile 78-rpm shellac monstrosities in an album) is to me the zenith of the medium; its development is to the art of music what the novel was to the art of narrative. If you're a musician, once you make your statement in the form of an LP, it's unalterable – a perfect communication to the world of today and tomorrow.
I have a hard time separating form from content in art. I think both need to be solid to make the art stick – how you say a thing plays as much of a role in transmitting it as what the thing is that you're actually saying (a favorite satire of mine on this dichotomy, bringing the form into violent conflict with the content, has always been
this cartoon
by B. Kliban). Sister Mattie Moss Clark and the producers of her albums have one central message – it says it right on the back of the album in the notes by Evangelist Maria Gardner and Anthony Flowers: "Sister Clark's continuing prayer is for a deeper consecration, a deeper devotion and most of all a closeness with the Lord so that she may continue to reach the hearts of both young and old." They have deployed the best technology they have available to them in the service of this message: the LP. The biggest, brightest lights in the world are shining on this message of spreading the gospel throughout the land.
This message, as it always does with LPs, starts with the cover. A deep, rich red background frames a head shot of Sister Clark, a staring lovingly out towards us, and a group photo of the choir, thirty-nine beautiful young men and women in white robes that give their faces the appearance of angels floating in the clouds. The backgrounds of the photos are faded out, giving the jacket a feel that's both old-fashioned and timeless, floating in an eternal moment where the only solid things are the steps and brick wall of what I imagine to be their home church.
Beckoned inside, we go deeper: the needle drops. Within moments, we're floating on an unquiet sea of sound, an ocean of feeling surging beneath the unmoving surface. The first song, "God So Loved the World", is all choir; Sister Clark doesn't take a solo till track 2, "He Satisfies". When she does, her rich alto wraps around the text: "My lonely heart is singin', singin' singin'..." while the band keeps her afloat on waves of sound. The choir comes in at key points, lifting her vocal on angels' wings. This song ascends to about the middle of the air, leaving the remaining tracks on side one to first whip up the winds ("Try Him Right Now") and let the storm break forth ("I Found Him to Be Alright").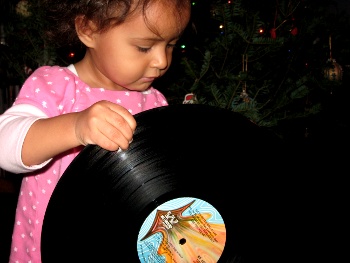 Gospel isn't a genre I've historically had any interest in (which one might guess from reading my older posts in this space), nor is it something I still spend very much (or any) time listening to, or even thinking about – so I don't have any idea how or why I bought (or otherwise came into possession of) this gospel record. I must have had it for at least ten years, and thinking about what I was into in the 90s, there's only one way this record could have fit in – the tiny, hypnotically abstract Westbound Records logo in the lower left-hand corner. Westbound connects to the earliest days of my musical awakening: the home of Funkadelic, whose monstrous
Maggot Brain
forever repositioned the 10 on my musical scale of 1-10 when I discovered it as a teenager in the basement of this 30-something dude who lived up the street from me.
You can tell there's a connection, even without knowing the label. Those fringe-wearing freaks obviously came out of this same soul-soaked community: it's all Detroit, churches, organ, funk, funk and funk. Some of the Hammond licks played on this album by organist "Twinkie" Clark (quotes not mine), particularly in the first seconds of "Try Him Right Now" and "I Can't Give Up Now", make it obvious where Bernie Worrell came up; bassist Tommy (no last name provided) is all over the fretboard and the choir wails away in the background in a way that's completely familiar to anyone that's worn out the grooves of a George Clinton production or two.
I guess I must have bought the record based on the Westbound connection, but I can't have ever listened to it – it doesn't really sound or even look all that familiar. The knowledge of the connection and the ownership seems to have been enough for me, until now. Musing on the reasons I have the record brings me back to the question of what I want vs. what I need. I'm a guy with way too many records – my problem is one of choice. It's a problem felt acutely by those of us lucky enough to have experienced the great demystification and bounty of music that the last ten years of digital availability have brought on. The response of many artists has been to recombine, rethink and re-contextualize previously obscure forms like Afro-pop and Balkan party music; the response of many consumers has been to become overloaded and short-circuited, desensitized to the beauty and majesty of creation inherent in each recording, and unable to love on an individual level the products of the recording industry.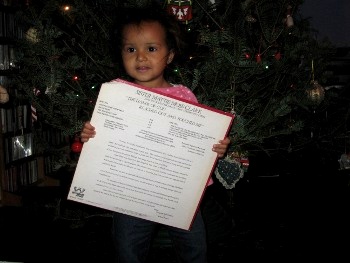 I'm luckier than many: I have lots of choices. In the absence of choice, though, we all face the problem of existence. I have no idea if that lady my wife met yesterday needed what she got at the store, but I can reasonably conclude that something about that trip, either the cigarettes and soda that she bought or the chance to get out of the house or some detail I missed, was a strong enough motivator for her to risk life and limb in the icy Chicago December and scrape together change for overpriced, health-wrecking products of our choice-laden society. In that sense, she needed whatever she got. When I buy records, or books, or MP3s, or anything really, I express my choice and desire in terms of need – if I've got finite cash to spend and a store full of stuff to explore, I can't get it all. I've got finite time on this earth, and I can't listen to all the records or read all the books, so I need to make a choice. My greatest need at this time is to live the best life I can, and for me that means in part choosing my media carefully, and trying to minimize my exposure to mediocre art, like Mannheim Steamroller. It also means finding something to take away from the art that I'm exposed to – making sure my time's not "wasted".
It seems my problem of separating form from content has a parallel incarnation: want vs. need. Again, I turn to the great artist B. Kliban for a pithy illumination of this dilemma:
the Only Show in Town
. In the absence of choice or in its overabundance, want becomes need and vice versa – the most strongly felt desire is to need something enough to feel its absence.